Whipped Sugar Scrub
$

8.00 Sold Out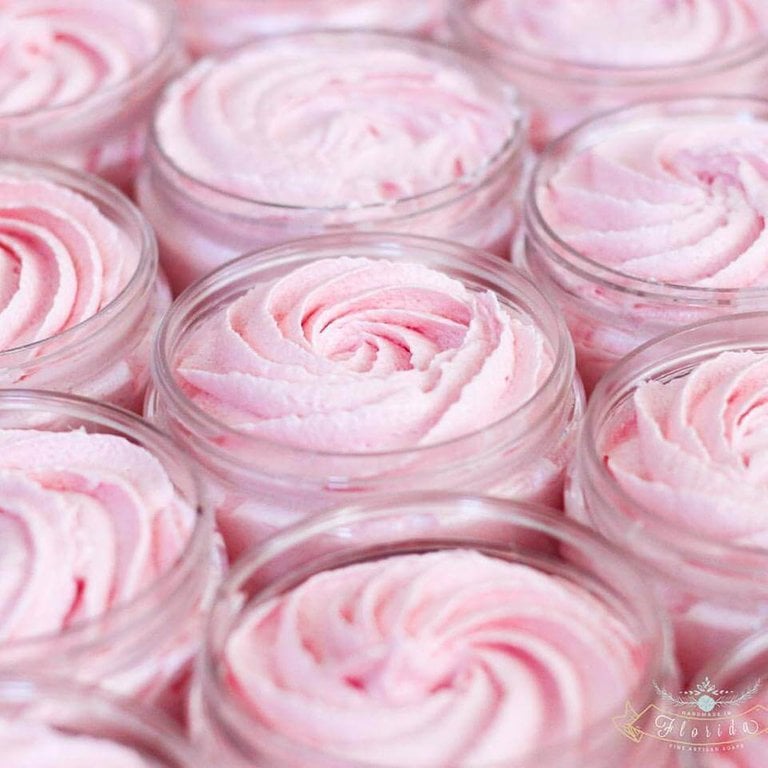 Made from scratch and whipped to perfection. Approximately 4 oz each and available in these amazing scents:
Pineapple Whip :: Inspired by a magical kingdom, a delectable blend of sweet pineapples and vanilla ice-cream.
Coconut Smoothie :: An insanely delicious blend of fresh coconut with a touch of sweet cream.
Blackcurrant Bliss :: A mouthwatering blend of blackcurrant preserves and rich creamy vanilla.
Pistachio Cake :: A gloriously fragrant cake scented with rosewater, pistachio, cardamom, and topped with freshly whipped cream.
Lemon Blueberry Scone :: Sweet blueberries and zesty lemons, blended with warm vanilla and fresh cream.
Lavender Ice :: Lavender and mint essential oils blended with a dreamy concoction of sweet vanilla.
Lavender Crème Brûlée :: A delicate blend of French lavender, vanilla bean, and caramelized sugar.
Crushed Roses :: A beautiful blend of Turkish roses, geranium, lemon and musk, all crushed and sweetened to perfection.
Violet Rose :: A beautiful blend of wild rose, violet, amber and powdery musk.
Sandalwood Rose :: Ancient sandalwood blended with velvet rose petals, jasmine, amber, musk and finely ground sandalwood powder.
Strawberry Mousse :: A mouthwatering blend of sweet strawberries and freshly whipped cream.
Orange Dream :: A nostalgic blend of sweet oranges and vanilla ice-cream
Contains: Sugar, Purified Water, Sodium Cocoyl Isethionate, Cocomidapropyl Betaine, Vegetable Glycerin, Steric Acid, Sweet Almond Oil, Jojoba Oil, Shea Butter, Fragrance Oil, Optiphen Plus, Vitamin E, Cosmetic Mica
We are committed to using cruelty and paraben free ingredients. Our sugar scrubs contain Optiphen Plus, a paraben and formaldehyde-free preservative.
Please note that this is a preorder; each item will be made fresh to order just for you! Colors and designs may vary. Shipping (also known as turnaround time or TAT) will begin in June 2019.
Share